Services
What can we do for you?
What We Offer:
Our experience in the design field ranges from small handheld objects to large theme park icon pieces. This means we go beyond the traditional bounds of industrial design, allowing us to assist in the design of just about anything you can dream up. We have been proud to take a major roll in the development of several prototype vehicles, aircraft, boats, aerospace industry test equipment, spas and much more.
We can manage all aspects of the design process, from initial sketches to completed product prototypes. Working with you every step of the way, we provide visuals to help you understand what your product looks like, as well as how it functions.
See More Examples...
Examples:
Large Scale Object Design Process:
What We Offer:
Prototyping takes the design phase to the next step by allowing you to work with an actual product. Big or small, we have the resources to build your prototype to help lock down your final design. We can also reverse engineer your design from prototypes you have already created.
We have been involved in the prototype development process for several vehicles, aircraft, spas and skydiving wind tunnels.
Our capabilities in prototype work include:
• 5-Axis machining operations up to 20'
• 5-Axis Waterjet
• Laser Scanning
• 3D Printing
• Fiberglass or Carbon-Fiber Lamination
• Metal Fabrication/Forming
• Vacuum Forming
See More Examples...
Examples:
Prototype automobile components: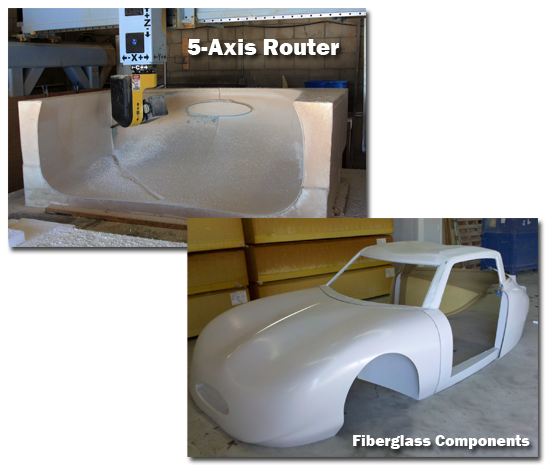 What We Offer:
From business cards to websites, we have you covered. We've been an integral part of several start-up businesses, giving new companies the professional look that has helped them to succeed in today's tough market.
We have arrangements with printing companies to provide quality print materials at affordable prices, and we maintain our own web server to provide our clients with full featured website hosting and maintenance.
How can we help you get a more professional look? It may be cheaper than you think. Contact us today to see how we can help.
Examples:
What We Offer:
Getting the perfect picture can open a world of opportunities for you or your product. We have affordable rates and a broad range of photography experience. Contact us if you are interested in:
• Advertising
• Fashion/Glamour
• Still Life
• Pets
• Aviation
• Automobile
Examples:
What We Offer:
3D renders offer the ability to see your design before a prototype is completed. It's a great way to visualize graphics before painting, and offers you views of items that are impossible to obtain with existing photography methods.
Our renders can be produced in life size posters or as on-screen displays for your website. We also offer virtual reality models which allow you to spin your object in three dimensions and see every angle. The sky is the limit when it comes to what can be produced in 3D-rendered imagery, so let us know what you'd like to see.
Examples: